The Wabash thru the Heartland
Self-guiding railfan tours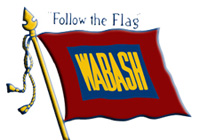 Introduction
In the 1960's, the Norfolk & Western Railway was one of the most profitable railroads on the planet; however, it realized that it relied to an extreme extent on one commodity: Coal.Likewise, the Nickle Plate and Wabash railroads were profitable, but also relied on one commodity: Bridge traffic carried between other, more major carriers.The amalgamation of these three carriers created an entity much stronger than the sum of its parts, and today, the ex-Wabash main line between Detroit and St. Louis/Kansas City is humming.
Frograil, building upon a central segment completed by Bruce Bridges between Lafayette and Fort Wayne, Indiana, has begun a series of railfan tour segments that will, hopefully, one day stitch together a tour of this heatland route.So far, a total of just over 235 miles has been completed in three segments (see below).Also, Bruce and his Dad, Dave, have completed a tour between Fort Wayne and Fostoria, Ohio, via the NS ex-NKP Chicago - Buffalo main line. This tour of 82 miles allows a complete end-to-end tour of 317 miles between Decatur, Illinois, and Fostoria, Ohio.
WHAT YOU WILL FIND HERE: From a particular starting point, each segment of this coverage will allow you to follow the instructions given, drive to a railfan site, then to the next, etc. etc. Traffic levels and patterns will be given, and the photographic/ lighting considerations for each site will usually be mentioned. You'll be told about area attractions, such as tourist and historic sites, as well as hotels and restaurants which are trackside or otherwise worthy of note. In short, you'll be able to plan an entire family or railfan-only outing, or even a vacation from this guide, as it is completed in the months to come.
WHAT YOU WILL NOT FIND HERE:This is a railfan guide, not a photo collection. There are already many excellent and enjoyable railroad photo sites available, and one more really wouldn't add much value to the general railfan. Besides, photos take up a lot of memory, and your humble Webmaster has to pay for memory.
You will not find fancy graphics, as this is a tour guide, not an exhibition of HTML or graphics expertise. You'll be able to load these pages quickly and print them without waiting a week for each page to print. Also, you'll conserve toner in the process.
Contributors
Major contributors to this effort include:
Bruce Bridges -- Decatur, Illinois all the way to Fort Wayne, Indiana.Complete on-the-ground research, text and color information.
Dave Bridges -- Bruce's Dad, who helped with the on-the-ground research.
Tony Hill -- Webmaster. The guy who makes it go.
If you'd like to contribute to this effort, please contact me here, and let me know what you'd like to do. We'll work together: You supply the data/info, and I'll do the HTML stuff and upload it. You'll get a chance to review the fruits of your efforts before the general public sees the finished product, so you can let me have your corrections, additions and changes.
Segments
Kansas City, MO -- Decatur, IL[Far in the future]
St Louis, MO -- Decatur, IL [Far in the future]
Decatur - Danville, IL. [Complete -- 75.9 miles]
Danville, IL -- Lafayette, IN[Complete -- 44.4 miles]
Lafayette, IN -- Fort Wayne, IN [Complete -- 115 miles]
Fort Wayne, IN -- Detroit, MI[Far in the future]
Additionally, Bruce and Dave Bridges have completed another tour thru the Heartland that is a logical extension of the Wabash segments. This tour is Fort Wanye - Fostoria, Ohio, via the ex-NKP Chicago - Fort Wayne - Bellevue - Buffalo "Route of the High Speed Service".The tour is here.